UNLEASHING RECOVERY: THE TRANSFORMATIVE ROLE OF PETS AND ANIMALS IN OVERCOMING ADDICTION BY AURORA JAMES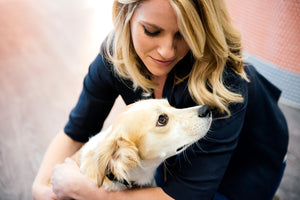 Photo: Dogtopia
Unleashing Recovery: The Transformative Role of Pets and Animals in Overcoming Addiction
The journey towards recovery from addiction is often fraught with emotional, physical, and psychological challenges. An emerging body of evidence suggests that pets and animals can play a significant role in enhancing emotional well-being and fostering successful recovery. Their constant companionship, ability to reduce stress, and to encourage physical activity can act as pillars of support. These extraordinary creatures offer more than just affection; they can be catalysts for change, transformation, and healing. In this article, we'll delve into the therapeutic power of pets and animals in addiction recovery.
Visit 100% Angel to discover the perfect charms, tags, and jewelry for your beloved canine companion.
Stress Reduction and Emotional Well-being
Interacting with animals has a proven calming effect on the human psyche. Studies show that even brief interactions can reduce cortisol levels—the body's primary stress hormone. The act of petting an animal can stimulate the release of endorphins, promoting a sense of happiness and relaxation. This emotional stability can be a cornerstone in the intricate and challenging process of recovery.
Encouragement of Physical Activity
The responsibilities that come with caring for a pet, like walking a dog or playing with a cat, naturally incorporate physical activity into daily life. Regular exercise releases endorphins, which act as natural mood lifters. This can be particularly beneficial for individuals in recovery, as physical well-being often translates into emotional well-being, aiding in the overall recovery process.
An Emotional Outlet
In the voyage of recovery, emotional support is invaluable. Animals, with their non-judgmental demeanor, provide a safe emotional outlet. Talking to a pet can help in organizing one's thoughts, or venting without fear of criticism or judgment. The emotional release and freedom that pets offer can play an essential role in emotional healing during recovery.
Unwavering Companionship
The sense of companionship that pets offer is unwavering and unconditional. For someone who is in the recovery phase, a pet can give a sense of purpose and a reason to stay committed to their journey. The daily routines centered around pet care can provide much-needed structure, leading to a balanced, disciplined life—a key element for anyone in recovery.
Promotion of Mindfulness
Caring for a pet encourages individuals to be fully present. Whether it's observing a cat's playful antics or focusing on a dog's needs during a walk, the tasks require attention and awareness. This practice of mindfulness is essential for individuals in recovery as it fosters self-awareness and inner peace, further aiding the recovery process.
Alleviation of Loneliness
Loneliness and isolation can be perilous during recovery, often acting as triggers for relapse. Pets offer companionship that alleviates these feelings, filling the emotional void with unconditional love and presence. The simple act of caring for another being can impart a sense of responsibility and purpose, reducing the risk of emotional setbacks that could lead to relapse.
Seeking Inpatient Treatment if You Relapse
In cases of relapse or severe addiction, inpatient treatment might become necessary. When looking for best rehab centers in the US, it's essential to consider various factors such as accommodations, accreditations, treatment modalities, location, and patient reviews. Most facilities accept health insurance, but it is advisable to confirm the level of coverage with your insurance provider.
The companionship of pets and animals can serve as an irreplaceable form of emotional and psychological support in the path to addiction recovery. From offering stress relief and encouraging physical activity to providing a safe emotional outlet and alleviating loneliness, the therapeutic benefits are manifold. For anyone embarking on or navigating through the complex journey of recovery, the constant companionship of a pet can be a source of solace and strength. Embrace the holistic healing power of pets and animals in your journey toward lasting recovery and improved well-being.
Leave a comment
Comments will be approved before showing up.