The Importance of Pet ID Tags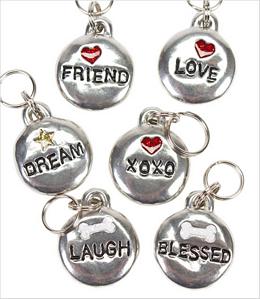 Did you know that most pets don't plan to get lost? It's usually a spur-of-the-moment thing that happens during a party, when a worker comes to your house, or just before you've connected the leash with the collar.
And, getting lost is pretty terrifying – for everyone.
Luckily, there's something simple you can do to minimize the trauma, and help get your lost pet safe and sound at home: put a collar and current ID tag on him (and have him wear it all the time).
MOST LOST PETS ARE FOUND BY NEIGHBORS.
And, if your pet is wearing a collar, your neighbor will be more likely to help him. Why? A collar says "Help me, I'm lost! I'm somebody's furry family member!"
PEOPLE WOULD RATHER CALL YOU THAN ANIMAL CONTROL.
Some people are afraid to take or report a lost pet to animal control. Do them a favor, put your current mobile (and one back-up) phone number on your pet's ID tag.
INDOOR CATS SHOULD WEAR COLLARS TOO.
Give your kitty a breakaway safety collar, so that if she snags it on something she won't choke.
THE ONLY THING YOU SHOULD EXPECT IS THE UNEXPECTED.
What will happen to your pets in the event of an earthquake, fire, or other emergency? Even with the most secure fence and the least adventurous pet, you could get separated.
HAVE A BACK-UP PLAN.
Sometimes, despite your best efforts, your pet gets lost and she's not wearing her collar (maybe she bolted after bath-time, maybe she snagged it on something). Prepare for these situations – get your pets microchipped, and register the microchip.
Leave a comment
Comments will be approved before showing up.