The dogs from 911, where are they now? by Michael Mountain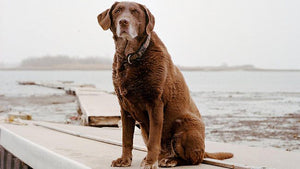 Moxie spent eight days at Ground Zero with her person, Mark Aliberti, from Winthrop, Mass.
In the hours and days following the attack on the Twin Towers, almost 100 trained dogs from 18 states, were deployed in the search-and-rescue efforts at Ground Zero.
Today, only 12 of these dogs are still alive. Some had died peacefully of old age; others had become sick and did not survive long.
Photographer Charlotte Dumas went in search of the dogs who are still with us. She tracked each of them down, visiting and photographing them at their homes throughout the U.S.
Her book, Retrieved, marks the 10th anniversary with special recognition for some of the first responders and their dogs.
"I felt this was a turning point, especially for the dogs, who although not forgotten, are not as prominent as the human stories involved," she said.
Bretagne taking a break at Ground Zero with Denise Corliss, and, later,in retirement
One of the dogs she met was golden retriever Bretagne, who lives with her person (and handler at Ground Zero), Denise Corliss. "Denise told me of one fireman who was there in the rubble, and how taken he was with Bretagne, who comforted him as he sat down to catch his breath."
Years later at a remembrance ceremony, the same fireman recognised Bretagne and her handler and they had a touching reunion."
Hoke spent five days with her person, Julie Noyes. They came from Denver.
"The dogs are now old and they will soon pass away," Dumas said. "These portraits are about how time passes, and how these dogs and their portraits are offering us a way to deal with the things that happened."
This blog, and photos are  by Michael Mountain.
http://www.zoenature.org/2011/09/where-are-they-now/
Leave a comment
Comments will be approved before showing up.