Keep your pets safe on the 4th of July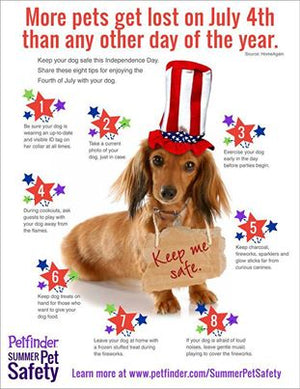 Did you know that many dogs will bolt, freak out, hide, run or do other evasive behaviors when fireworks are shot off? Yep, it's true! More dogs go missing on 4th of July :O( It's like we think someone is shooting at us, or immediate harm is coming our way. So please, leave us INSIDE safe & sound, maybe with a little music on to mask the scary stuffs. We rely on you our owners to keep us safe.
Click here for more Summer Pet Safety Tips!
Leave a comment
Comments will be approved before showing up.