In Loving Memory of our C.E.O. (Canine Executive Officer) Angel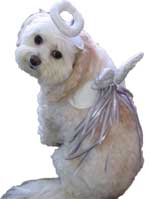 On April 29, 2013 around 7:30pm, unexpectedly Angel took her last natural breathe in her Doggy Mom's arms and returned to heaven. Angel was 13 years old, but looked & acted like a pup however she had a serious heart condition and seizures that she took daily medication for three times a day.
 If I could mail a letter to heaven…it would be this one.
 A letter for you…..my dear sweet fur baby Angel
 Dear beloved Angel,
 Thirteen years ago, there was a knock at my front door and when I opened it there you were… a real life fluffy canine angel sent from heaven especially to me. Immediately, you were by my side through heartache, disappointment, turmoil and my darkest days brought on by human hurt.  You brought light, love, hope and happiness into my world. I was so blessed that GOD lent you to me on this earth for the brief but very fun and loving time that we had together.
 Over the years you helped me find my purpose in life, a question I was always asking myself. Why am I here? You answered it for me to be a Doggy Mom and spread awareness throughout the world through our 100%Angel website, that dogs are truly living canine angels. 100% Angel will continue on in your honor and as your legacy.  
 You brought kisses, happy dances, doggy adventures, kibble flipping, gourmet doggy breakfast; wind surfing, doggy art work and so much more into my life. You taught me about unconditional love, compassion and forgiveness through many of my life lessons with other humans. You changed me and my life forever in the most beautiful way.  
I have your paw print, collar, leash, a locket of your hair, photo's, artwork and other belongings of yours but nothing will ever be as beautiful and special as the love that you gave me that will remain in my heart forever. You are not only in my heart now but also watching over me from the heavens above. I have never been more blessed than with the gift of the 13 plus years we spent together.
 Your little body looked so young, peaceful and beautiful after your soul flew up to heaven. I laid my head down next to yours and my tears wet your fur, even when you were gone you wiped away my tears sweet angel. I will treasure this moment between just us, forever. I guess you felt that you taught me enough lessons that I needed to learn and that I am strong enough to be on my own now… What will I do without you?
 You were my chosen family, my fur baby; you never disappointed me, betrayed me, or let me down only loved me.  Most will not understand this but, I love you more than any human being I have ever known.
 I will continue to live my life here on earth spreading the kind lessons and love that you showed me. I will be waiting patiently until one day you my little, sweet angel, will knock on my door again for the last time for me to join you in heaven for all eternity.
 I became a better person from having you in my life. I will love you for always and forever!
 Doggy smothers with lots of xxxooo
 I miss you so.    
Doggy Mom....Jennifer
Leave a comment
Comments will be approved before showing up.