Congrats to Harley our Facebook Valentine's Day photo winner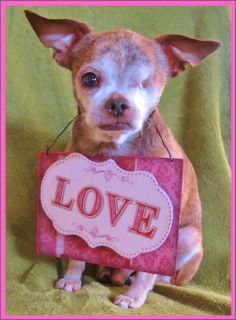 We wanted to share Harley's store with our 100% Angel blog readers.
Harley is very special,  because he's had to overcome the horrible life he once led.  Harley is a senior guy, we don't know exactly how old he is, but he walks like an old man and snores like one too!  Barbara Siegrist, the founder of Because of You Chihuahua Rescue (located in Edmond, Oklahoma) saved Harley from an awful puppy mill.  He was dying and so the puppy mill had no use for him anymore.  Poor Harley was in heart failure, his lungs and stomach were filled with fluid, it was even coming out his nose.  He'd lost one of his eyes (they often clean cages with a power washer and do not remove the dogs, so it's not uncommon for 1 or both eyes to be missing).  His good eye is cloudy with cataracts so sometimes he bumps into things when he walks.  Arthritis has caused his spine to be fused between his shoulder blades and it makes him walk funny with his head low and his elbows out.  His tail was broken.  His toe nails were never cut, it made his feet look a little funny.  He had a mouthful of rotted teeth.  Yes, Harley was a basket case, but thanks to Barbara he was saved.  She spent the next couple weeks nursing him and giving him love, something that he'd never known before.
 This is where Harley's human guardian angel come in....
Barbara wanted to find Harley a special home, where he could be loved for the rest of his life.  She runs a rescue and she was afraid that she couldn't give Harley all the attention he deserved; she wanted him to be part of a 'family'.  Then a loving couple in Colorado heard about Harley, they contacted Barbara, and off we went to the middle of Kansas to meet half-way and pick up Harley.  He was a sight at first, still a little bloated, his coat was so coarse, since most of his teeth were removed so he stuck his tongue out at us, and of course he walked funny.  
 Harley's new Pet Parents give him his daily meds, regular baths (seriously, he needs 'em), exercise and LOTS of love.  He's getting stronger all the time, his coat is getting softer and occasionally he will even 'gallop' in the yard - course it usually ends in an unexpected head over heels roll, hee, hee!  We don't know how long we'll have Harley for, the vet isn't very optimistic, but we think he'll be around for a long, long time.  100% Angel loves Because of you Chihuahua Rescue and Harley!
 GOD Bless, Because of you Chihuahua rescue and his loving family for saving sweet handsome Harley's life and giving him a forever home. 
Leave a comment
Comments will be approved before showing up.