Angel's Happy Holiday Photo Contest - 4 winners will be announced!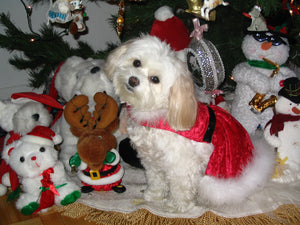 Win a Custom Photo Pet Charm for your human or a 12 month Scrapbook Calendar Kit special for dogs!
Join this contest on our Facebook page.

View prize at this link http://100pctangel.com/custom-photo-pet-charms
To enter simply post your dog's photo on our FB page (Be sure to include your dogs name and note Holiday photo contest on your post) Once your photo is posted we will post it to 100% Angel's Facebook Howl-a-day photo album (within 72 hours) the top four (4) photos with the most 'likes' will win. We have 2 certificates to redeem a photo pet charm and 2 awesome 12 month Scrapbook Calendar Kits just for dog's. Dog's with the top 2 votes will get their choice of prize! 

TO VOTE for your favorite Howl-a-day pup visit the 100% Angel Facebook page and click "Like." You will then be able to "Like" the photo in the Howl-a-day Photo Contest photo album that you are supporting. The 4 photos with the most "Likes" win! Contest and voting ends Monday December 26th 8pm PST. We will announce the winners on December 26th. Please note any votes on photos after 12/26/2011 8pm PST will not count.

Contest Rules – Howl-a-day photo contest.
From 100% Angel: A Charming Store for Dogs 
Contest rules
Single or multipul pets can be in each photo. 
By submitting a photo, you certify that you own the rights to that photo.
No Copyrighted Professional photos.
No photos with with people please.
You must be 18 years, or older, to enter.
Any fan of 100% Angel may enter.
No Photoshop enhanced pictures please.
Open to all dogs, U.S.A. and International.
Once we post a dogs photo, voting will begin for them
Leave a comment
Comments will be approved before showing up.