An Angel among us by Becky Starr Featured in the Los Angeles Pet Care Examiner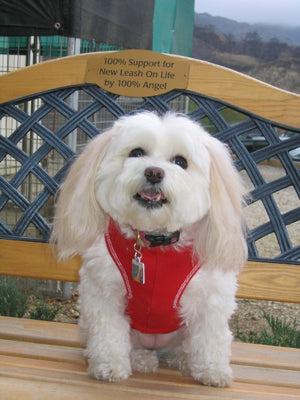 An Angel in our Midst
 100% Angel:  "A Charming Store for Dogs"
 The 100% Angel business was inspired by a dog named Angel.
A sweet natured, fun, loving little Hollywood furry kid that loves to be in front of the camera, as you will see by her photo debut on the website.
Human mom, Jennifer Shipstad, local here in Los Angeles states that in the depth of sadness from losing her beloved Westie name Bonnie,  an angel showed up in her life and has been the heart of her passion ever since. Thus the name Angel.
www.100pctangel.com features great, budget friendly gifts for dogs and dog owners.  The focus is primarily on fun and inspirational pet ID tags and pet charms and has recently been rebranded as "A Charming Store for Dogs".
I personally love the St. Francis Pet Charms and keep one on my own dog's collar at all times for protection. I also love the new Artesian Pet Tags and of course my own dog is dangling this as well. I like to call them "his jewels".
 They offer fashionable personalized collars, harnesses, and leads at great prices or if you're a sports fan or have a man that is, there is a whole line of doggie sports wear to boot.
 While the website has a business focus, the greater intent of this social media driven website is to engender kindness, and an appreciation of the greater animal kingdom says Jennifer.
 Jennifer's passion for dogs is evident and foremost in her thinking, she understands there is a greater interconnectivity within all animals, especially those we consider members of our family. 
 Jennifer believes if we learn to treat all animals with respect, kindness and affection, we can also extend that affection to animals outside our familial sphere, and even to each other, as humans.
 Since its inception in 2004, 100% Angel has continued on a journey of promoting awareness for the caring and nurturing of canine companions. 
 Giving Back: A portion of all earnings through 100pctangel.com go to social organizations that champion the cause.
 Jennifer and Angel have made several appearances at local and regional dog-related events over the years and have contributed to dog awareness groups like: 
 Along with their website, Jennifer and Angel also connect to compassionate animal lovers through their monthly Newsletter, Blog, Facebook and Twitter accounts.
 As they continue to expand their social media footprint, they will also grow their involvement with animal awareness groups that embrace similar passionate philosophies.
 Jennifer and Angel love to introduce budding animal artists and creative personalities, and are always willing to promote worthy endeavors.
 Take a look at your dog/s jewels, might be time for a new little Bling and don't forget the holidays are coming
 Take a look around the website and be charmed. 
 Thank you Angel for your inspiration
 Angel's Charming New for Dogs – a daily paper – link below
  http://paper.li/100pctangel/1313446455
Article from link below 
http://www.examiner.com/la-in-los-angeles/an-angel-among-us?CID=examiner_alerts_article
Leave a comment
Comments will be approved before showing up.