100% Angel has a new family member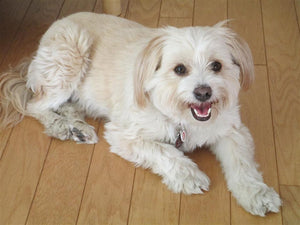 An Important message straight from HEAVEN!
Hi everyone …it's me Angel from heaven!
I have BIG NEWS, I have brought together a rescue dog from the Linda Blair World Heart Foundation
http://www.lindablairworldheart.org/
and my Doggy Mom to take care of each other and run the 100% Angel business, down there on earth, as I continue to watch over them and protect them from above.
My Doggy Mom gave this new rescue pup the name Sugar Baby. Sugar Lynn was the name of my BFF doggy friend on earth and now we are both here together up at Rainbow Bridge. In Sugar's (my BFF) honor and my memory, she gave this new pup the name of Sugar Baby. I give Sugar Baby the title and responsibility of Vice President of Sales over 100% Angel. Sugar Baby is a 1 1/2 year old pure breed mutt, just like I was.
So everyone please put your paws together and give Sugar Baby a warm welcome.
May GOD bless all of my friends on earth, I love you all so.
Don't forget, I am watching over all of you…..
Hugs and Kisses XXXOOO
Angel Shipstad
Leave a comment
Comments will be approved before showing up.